Are you a parent, patient, or a professional who has tried endless treatment options without success? Looking for answers?
Join board-certified child & adult psychiatrist, author and eating disorders expert, Dr. James Greenblatt, for a free webinar exploring new treatment solutions for anorexia nervosa. Dr. Greenblatt will discuss current research, various treatment modalities and key nutritional deficiencies, and answer live questions about how to begin a path to lasting recovery.
The recovery, relapse and mortality rates for anorexia are simply staggering.
We can't afford to wait.
Roughly 3 million people in the US over 15 years old has anorexia.
The death rate of anorexia nervosa is 12x higher than the annual death rate from all other causes combined for young women between ages 15-24 years.
Over the last decade, treatment centers are reporting an admission increase of 400% among women over 40yrs.
Traditional psychotherapy is associated with a relapse rate of 50% and a fatality rate higher than any other mental health disorder.
The one thread linking every single eating disorder case? Nutrition. Or, more accurately, lack of nutrition.
Anorexia nervosa (AN) is a biological illness fundamentally sustained by starvation and malnutrition, whether self-imposed or the product of genetic, psycho-social, or environmental circumstances. Approaching AN solely as a psychological disorder does not account for the brain's response to a shortage of essential nutrients. Nutritional deficiencies arising from prolonged self-starvation profoundly disrupt normal brain function, and psychological interventions alone are often not sufficient for patients whose brain and neurotransmitter functioning is sub-optimal.
Join Dr. James Greenblatt in a webinar to learn more about how to enhance the traditional treatment model for AN.
View and register for upcoming webinars
It's time we implement a more comprehensive system of care. 
It's time we address micronutrient deficiencies.
It's time to arm doctors, therapists, parents, and friends with effective integrative solutions that work.
New book by best-selling author, Dr. James Greenblatt, coming soon!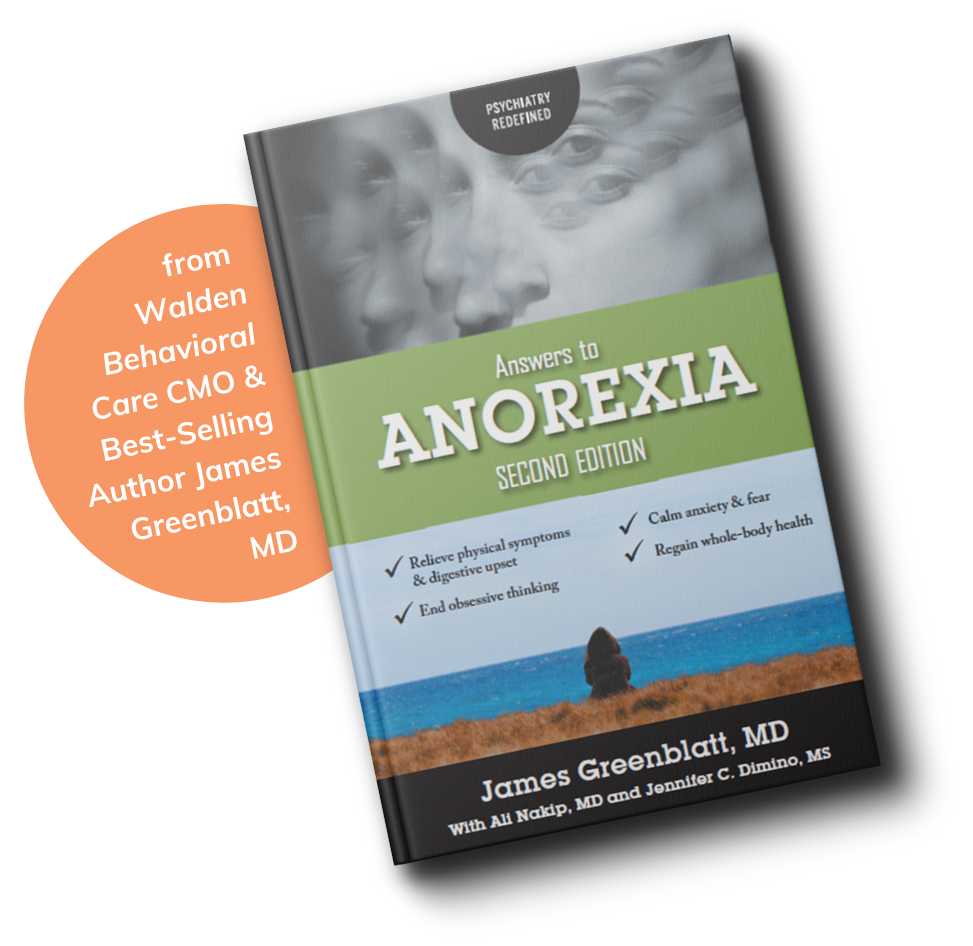 Answers to Anorexia, a new book from James Greenblatt, MD provides a comprehensive system of care, accessible not only to doctors and therapists, but the parents, families, and friends of individuals struggling to break free from anorexia.
This book complements and enhances the traditional psychological approach, delivering useful tools that can provide more personalized care. It provides an easy-to-implement plan in which nutritional repletion is prioritized.
Learn More About The Book
Join a FREE webinar to learn more from Dr. James Greenblatt.
Topic: Anorexia Nervosa – Malnourished Minds
Eager to learn more about Dr. Greenblatt's treatment approach?