Frustrated by current treatment approaches to anorexia nervosa? Looking for answers?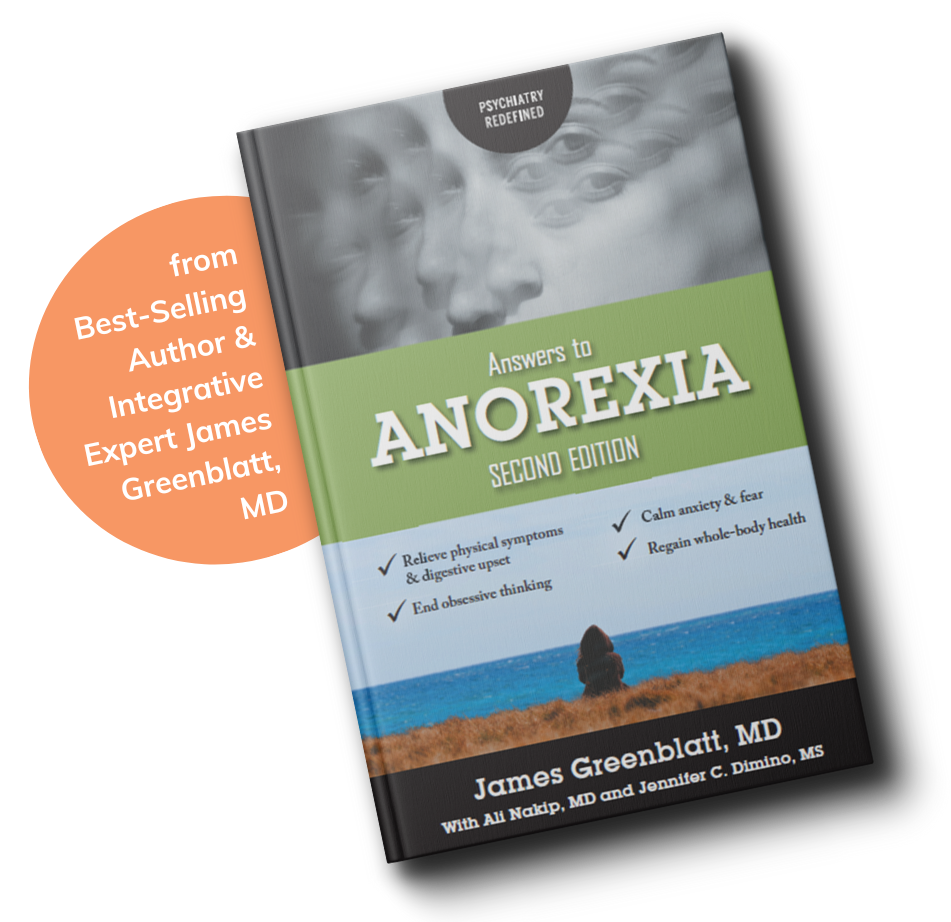 It's time to fundamentally change our treatment model for anorexia nervosa.

BUY THE BOOK!
versión en español
READ THE PREFACE
"A long-overdue book and important addition to the library of anyone who treats eating disorders. Useful for those suffering and their families, it is easy to read, provides an overview of various treatment modalities, and adds important new contributions for treating nutritional deficiencies. This book is a true game-changer."
– Carolyn Costin, MA, MEd, LMFT, CEDS, FAED
The Carolyn Costin Institute
Author of The Eating Disorder Sourcebook, 8 Keys to Recovery from An Eating Disorder, Your Dieting Daughter, 100 Questions and Answers About Eating Disorders, Yoga and Eating Disorders
The recovery, relapse and mortality rates for anorexia are simply staggering.
We can't afford to wait.
Roughly 3 million people in the US over 15 years old has anorexia.
The death rate of anorexia nervosa is 12x higher than the annual death rate from all other causes combined for young women between ages 15-24 years.
Over the last decade, treatment centers are reporting an admission increase of 400% among women over 40yrs.
Traditional psychotherapy is associated with a relapse rate of 50% and a fatality rate higher than any other mental health disorder.
The one thread linking every single eating disorder case? Nutrition. Or, more accurately, malnutrition.
Anorexia is a biological illness fundamentally sustained by starvation and malnutrition, whether self-imposed or the product of genetic, psychosocial, or environmental circumstances. Approaching AN solely as a psychological disorder does not account for the brain's response to a shortage of essential nutrients. Nutritional deficiencies arising from prolonged self-starvation profoundly disrupt normal brain function, and psychological interventions alone are often not sufficient for patients whose brain and neurotransmitter functioning is sub-optimal.
Answers to Anorexia complements and enhances the traditional psychological approach, delivering useful tools that can provide more personalized care. It provides an easy-to-implement plan in which nutritional repletion is prioritized.
Read the Foreward
A note about the book from Dr. James Greenblatt

About James Greenblatt, MD
A pioneer in the field of integrative medicine, James M. Greenblatt, MD, has treated patients since 1988. Dr. Greenblatt is an integrative psychiatrist, dually-certified in Adult and Child Psychiatry. He has treated thousands of patients with eating disorders as the Chief Medical Officer at Walden Behavioral Care.
An acknowledged integrative medicine expert, educator, and author, Dr. Greenblatt has lectured internationally on the scientific evidence for nutritional interventions in psychiatry and mental illness. Through three decades of practice and research, Dr. Greenblatt is a leading contributor to helping physicians, patients and families understand the role of personalized medicine for mental illness. Learn more about Dr. Greenblatt.
"Dr. Greenblatt has done it again. This outstanding book takes you on a journey that is invaluable. Einstein said it best, 'If you can't explain it simply, you don't understand it well enough.' In Answers to Anorexia, James Greenblatt, MD, demonstrates the depth and breadth of his understanding of brain science and nutrition by explaining the requirements to recover from anorexia nervosa in clear simple language. He fulfills his promise to not only educate, but also to spark much-needed change."
– Ralph E. Carson, RD, CED-RD, PhD, Nutritionist & Exercise Physiologist
Author of The Brain Fix: What's the Matter with Your Grey Matter, and Senior Clinical & Research Advisory Eating Recovery Center, Pathlight
Answers to Anorexia provides a comprehensive system of care, accessible not only to doctors and therapists, but the parents, families, and friends of individuals struggling to break free from anorexia. Among other treatment pearls, this book includes:
The role that a deficiency of the essential mineral zinc plays in the emergence and entrenchment of anorexia (Chapters 6 and 7)
Research demonstrating the health risks associated with vegetarian and vegan diets (Chapter 8)
Common nutrient deficiencies and how they influence brain health (Chapters 9-13)
How malnutrition interferes with normal digestion, and strategies for optimizing digestion (Chapter 14)
Medical conditions that can mimic anorexia including Celiac Disease and PANDAS (Chapters 15 and 16)
Medications commonly utilized for anorexia nervosa: the risks, side-effects, and treatment limitations (Chapter 18)
Evidence-based strategies to help prevent relapse (Chapter 20)
Our children deserve better.
Answers to Anorexia is a missing puzzle piece.
It's time we implement a more comprehensive system of care.
It's time we address micronutrient deficiencies.

It's time to arm doctors, therapists, parents, and friends with effective integrative solutions that work.
A breakthrough resource with life-saving information
Answers for Anorexia is a book for clinicians, patients, families, and friends—for anyone who has tried endless treatment options without success.
"Many thanks to tireless advocate, physician, researcher, and educator, Dr. James Greenblatt for his contributions to the understanding and treatment of eating disorders. Providing cutting edge information and guidance on treating the starved brain, Answers to Anorexia introduces 'neuro-nourishment' as the key to address the impact of severe nutritional deficiencies and to restore normal brain functioning. An unmatched resource in the eating disorder literature, this book is a lifesaver. Read it and you will believe two critical truths: hope is alive, and recovery is possible."

– Margo Maine, PhD, FAED, CEDS
Author of Pursuing Perfection: Eating Disorders, Body Myths, and Women at Midlife and Beyond; Treatment of Eating Disorders: Bridging the Research- Practice Gap; Effective Clinical Practice in the Treatment of Eating Disorders; The Body Myth; Father Hunger; and Body Wars
"The most important book ever written on this tragic modern scourge. In it, author Greenblatt presents anorexia as, quite literally, a starvation disorder and thoroughly documents the success of supplementing with the specific nutrients that individuals with anorexia are known to be critically deficient in. In this great pioneering work, Greenblatt gives us the first real hope of a cure for anorexia."

– Julia Ross, MA
Author of The Diet Cure, The Mood Cure, and The Craving Cure
Eager to learn more about Dr. Greenblatt's treatment approach?
Answers to Anorexia is a valuable resource for patients, families and practitioners. Anorexia is a multifaceted disorder and requires a breadth of knowledge to treat. Dr. Greenblatt has done an excellent job pooling together this information in this valuable book.

Nicole Avena, PhD

Author of Why Diets Fail and Assistant Professor of Neuroscience at Mount Sinai School of Medicine
Beautifully written...Answers to Anorexia allows the reader to be an active participant of a step-by-step action plan that incorporates biological and psychological interventions...a must read for patients, families, and providers alike.

– Mariela Podolski, MD

Medical Director of Child & Adolescent Psychiatry, Walden Behavioral Care
Dr. Greenblatt's book is one of the most thoroughly researched and yet user-friendly books I have ever come across in this field. He describes the science behind the consequences of nutritional deprivation while providing simple step-by-step guidelines and action plans for both parents and therapists... As we learn more about the brain we recognize that an eating disorder is more related to physiological factors, creating a vulnerability and nutritional deficits making recovery more difficult. Although over time, we have become more and more aware of this truth, most have not had the opportunity to be thoroughly trained or the time to thoroughly research these advances. That is where this book bridges the gap. I highly recommend it to any clinicians or parents finding themselves caring for someone with anorexia.

Linda P. Buchanan, PhD, CEDS-S CEDS

Author, A Clinician's Guide to Pathological Ambivalence and I'm Not Good Enough
Answers to Anorexia provides the springboard needed for patients, parents, and providers to reclaim a newfound hope while empowering, strengthening, and connecting the dots between nutrition and the mind along the journey to lasting recovery.

Cheryl Kerrigan, LCSW, CFSW

Author of Telling Ed No! and Other Practical Tools to Conquer Your Eating Disorder and Find Freedom
Dr. Greenblatt has generously packed a wealth of scientific information and clinical experience into this guide for both patients and their families and professionals alike. He discusses a wide variety of useful interventions, including digestive aids, essential nutrient supplements, microdoses of lithium, and even antipsychotic medications. I'm convinced that his innovative, nutrition-oriented approach deserves to become incorporated into the standard of care for this complex, misunderstood, and life-threatening condition.

Georgia Ede, MD

Author & Nutritional Psychiatrist
Dr. James Greenblatt makes a compelling argument that therapies must focus on one of the most significant and neglected interventions in the field of modern psychiatry: nutritional therapy. He presents us with exhaustive evidence-based research in this over 500 page book that will inspire clinicians, doctors, and parents to investigate how to integrate nutritional supplementation along with psychological treatment for eating disorders.

– Mary Anne Cohen, LCSW

Director, The New York Center for Eating Disorders
As an integrative medicine physician specializing in treating eating disorders and addictions, I find Dr. Greenblatt's Answer to Anorexia to be a valuable resource for all clinicians. Dr. Greenblatt has been a pioneer in the use of nutritional therapies for anorexia, a treatment approach that has proven, in my own experience, to be much more useful and effective than the current Western medicine approaches to this difficult to treat disorder. Dr. Greenblatt's Answer to Anorexia is detailed and well researched and the cases he presents in the book only serve to illustrate the value of this approach. It should be mandatory reading for anyone who seeks to treat eating disorders!

Carolyn Coker Ross, MD, MPH, CEDS-S

Author of The Food Addiction Recovery Workbook
Answers to Anorexia covers all the bases and more. The result is empowering, compassionate, and most importantly, effective. To those looking for answers, from individuals and families to clinicians and researchers, and especially to those who are running out of hope, if you haven't yet tried Greenblatt's nutrient-led approach to anorexia, there's so much more help available for you.

– Jill Sheppard Davenport, MS, MPP, CNS, LDN
In the revised edition of Answers to Anorexia, Dr. Greenblatt offers several unique and important perspectives on one of the most lethal and difficult to treat psychiatric disorders. His deep dive into many of the underlying nutritional aspects of AN is illuminating and reflects a voice not often heard in the field.

– Timothy D. Brewerton, MD, DLFAPA, FAED, DFAACAP, CEDS-S

Affiliate Professor of Psychiatry & Behavioral Sciences, and Director of Clinical Outcomes/Research, Monte Nido & Affiliates
Dr. Greenblatt's work is truly groundbreaking. It should place 21st century treatment of eating disorders on a whole new foundation. This book should be read by everyone treating people with anorexia nervosa.

– Shan Guisinger, PhD

Clinical Psychologist & Evolutionary Biologist
Dr. James Greenblatt's science-based interventions can be life-changing for the patients and families I encounter as a nurse practitioner specializing in the treatment of eating disorders. This book has empowered me as a clinician and changed the way I practice.

– Rachel D. Egan, PMHNP-BC

Associate Medical Director for Ambulatory Services at Walden Behavioral Care
Ready to learn more about the latest AN research and key nutritional deficiencies?
Watch a FREE webinar with Dr. Greenblatt!
Join Dr. James Greenblatt for a comprehensive webinar on anorexia nervosa and various treatment modalities. Discover new insights, and learn how to begin a path to lasting recovery.

Enroll & Watch the Webinar for FREE
Additional Resources from Dr. Greenblatt